I cannot believe how quickly the past 5 weeks has gone! So much has happened. The last week of May Osa and Arlo became the parents of 10 precious puppies (Tyler wrote more about this in his latest blog). It has been so fun to watch them grow and see each of their personalities start to come out. As of today, 4 out of the 10 have found homes.
The following week we had a team from Ohio Northern University who came to do barrio clinics. It was so good to see the team leaders again! They brought a large team of both alumni and current nursing students. The team was well prepared, so I was able to go out on home visits one afternoon which I rarely get to do.
That Saturday it rained almost all day and in the evening I got a call from Tyler that the guesthouse was flooding again. It broke my heart to see the muddy water in the guesthouse yet again. We began the cleanup that night, and it was completed in the morning thanks to our incredible staff so that we were able to welcome our second pre-med/pre-dental team from Southern Utah University that afternoon. From the outside you might have thought we were a little crazy as we were laughing while cleaning, but in the life that we live here you always have the choice to either laugh or cry when things happen. We choose to laugh!
Following that week, we had a team from Northwoods Community Church (Peoria, IL) who hosted our first week of VBS for the summer. It is always fun to be around the guesthouse while the VBS teams prepare their crafts, songs, and bible skits. That weekend we celebrated Tyler's birthday and went to a nearby pool. It is hard to beat a pool day with friends when we are busy with teams!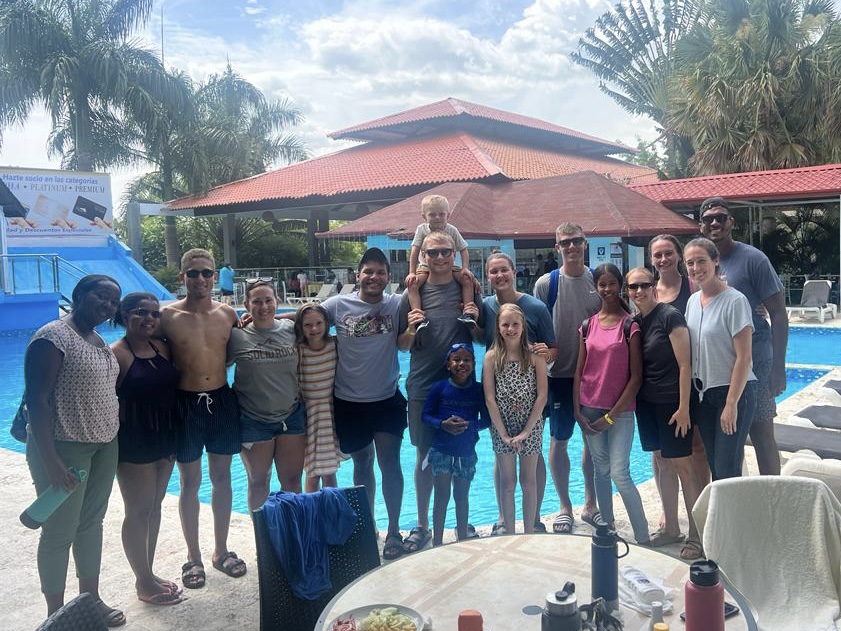 The next week with had a medical team from VIMM (Volunteers in Medical Missions). This team originally had planned to go elsewhere but that trip fell through…I am thankful it worked out for them to come serve with us. Their positive attitudes and work ethic were very encouraging. It has been nice to have several small teams this summer. I like getting to know everyone on the team.
This past week my parents and grandma came to visit me. This was the first time in San Juan for all of them, and I am thankful for the opportunity to show them my home, have them meet my people, meet Arlo, as well as see the current and new clinics. They had a true Dominican experience with vehicle issues, electricity frequently going out, a few cold showers… I think they all have a better understanding of what my life is like here, and hope that they see that this is where God wants me to be right now.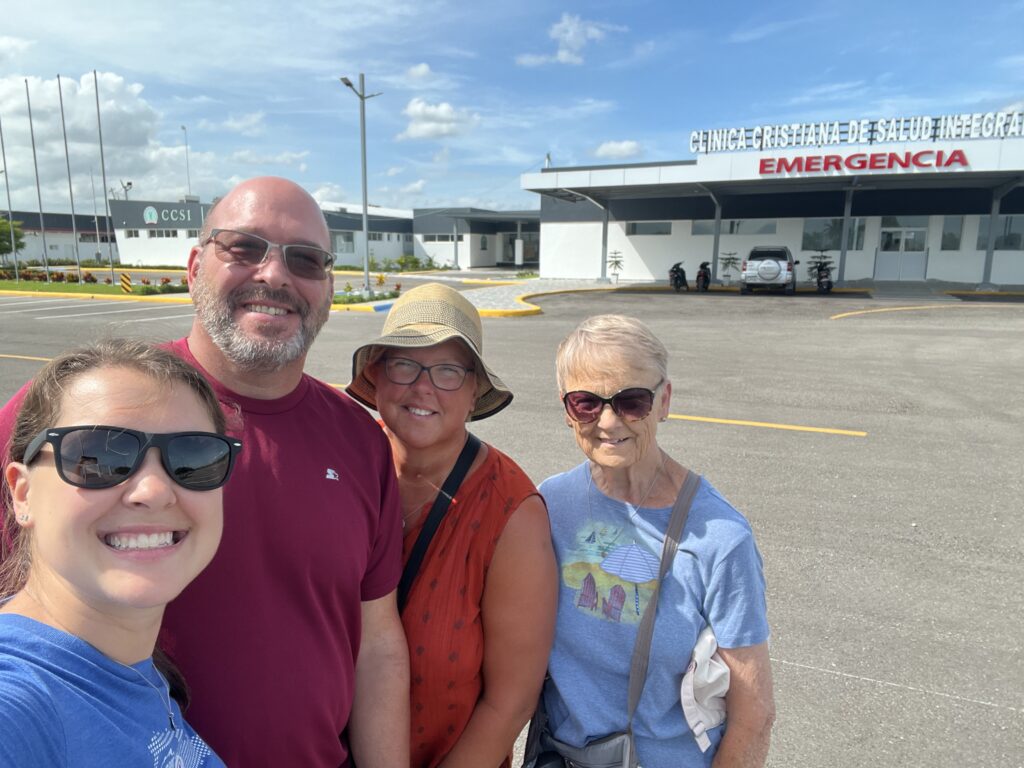 Last week my friends Tina, Ravi, and John were also in San Juan for a few days. We all met on a mission trip to Brazil a few years ago and have remained good friends – I wouldn't be here without their support and encouragement. Ravi (ER doctor) and Tina (ER nurse) did some education with some of our clinic staff while they were here. The nurses were all very eager to learn…we are excited for the new clinic to open!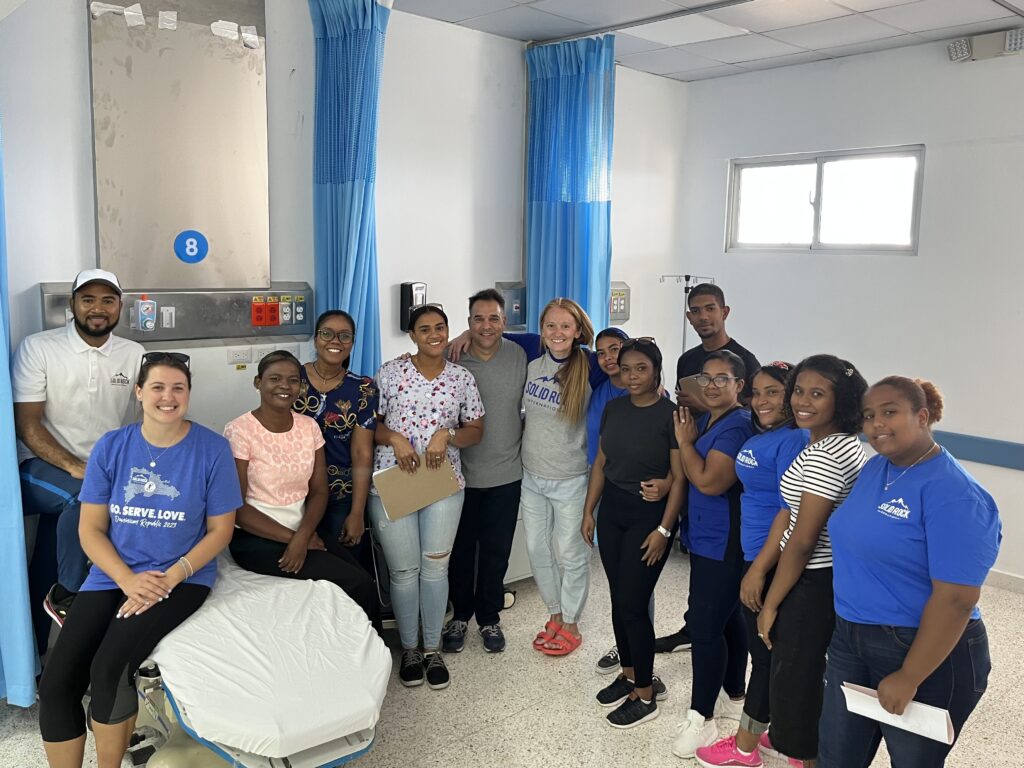 This past Sunday after church poor Jason got hit in the back of the head by a metal ceiling fan. Fortunately, he had an ER physician and two nurse practitioners to help fix him right up!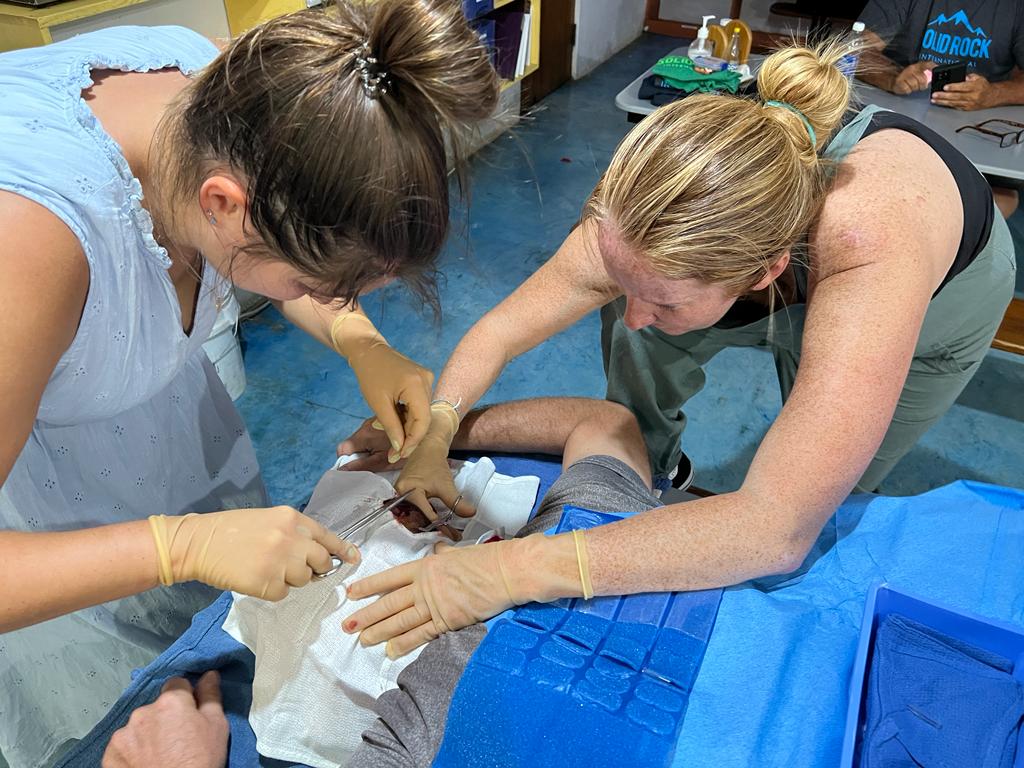 As I am writing this blog, I am on my way home from Santo Domingo. My friend, Kailey, who works with another local organization asked me to come with her to transport a child (I will call him Ben) to the children's hospital in the capital. Ben is 9 months old and only weighs 6 pounds. Sweet boy breaks my heart he is so tiny. I pray that he gets the help that he needs.
Prayer requests:
Ben – that the medical team can find answers and develop a plan of care
Puppies – that they all find good homes
Rest and health for myself and the team
Spanish